The seal of Saint Jude Catholic School represents the school's distinction as a Chinese-Filipino Catholic School. The Cross located at the center of the coat of arms symbolizes the unique character of the institution in its pioneering quest and work towards active evangelization. The cross also signifies the religious work of the SVD in propagating the seed of faith in a world which thirsts for the Word of God.
The dark green color of the letters of the school and the coat of arms signify the school's core values of Discipline, Excellence, Christ-Centeredness, Commitment, and Service.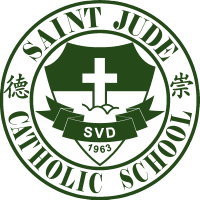 The Coat of Arms symbolizes the school's continuous campaign to spread and proclaim God's Word and to defend the Catholic faith against all forces which may inhibit or constrain it from realizing this purpose. Within the outer circle of the seal are two Chinese characters. They are the name of the school which means upholding good values. Located at the bottom of the coat of arms is a folded ribbon with the letters S V D which stand for Societas Verbi Divini (Society of the Divine Word), the congregation which owns and manages Saint Jude Catholic School and the numerals 1963 indicate the founding year of the school.
The SJCS Mascots are the embodiment of the virtues and values every Judenite is called to possess. Similar to the knights all Judenites are enjoined to uphold strict set of rules of conduct or knightly virtues. These virtues include: piety, honesty, diligence and industry, courtesy, obedience, friendliness, promptness and punctuality, helpfulness and cooperation, orderliness and cleanliness and responsibility.